公益对话 | 近期直播活动链接大集合
本周可谓是活动多多的一周,小编现在就来给大家分享一下本周的公益直播活动。
跟着IO-Talent来涨姿势吧!
5.18(今天)北京时间20:00-21:30
IO-Talent x Greycells

分享主题: Communications in times of crises: exchanging views between Chinese and European citizens on how the Government manages information on pandemic.
嘉宾介绍及直播链接:详见
公益对话 | 中国与欧洲的疫情信息管理机制有何不同?
5.19(明天) 北京时间20:30 开始
IO-Talent x University of Geneva
分享主题: Exchange session on the Master of Advanced Studies on European and International Governance (MEIG Program)
嘉宾介绍:
Prof. Christine Kaddous, Director of the MEIG Programme, Introduction to the MEIG Programme and to the challenges of global governance today,
Mr. Mattia De Pasquale, participant in the current edition of the MEIG Programme, will explain how he perceives the interaction between the knowledge acquired in the Master programme and his practical experience at the EU Delegation.
Ms. Valeria A. Escalona Medina, participant in the current edition of the MEIG Programme, will share her experiences in security issues bringing her perspective from the global South.
直播链接:

https://unige.zoom.us/meeting/register/tJMtduygrzMqEtEz5_iy_ZYNmoGusVy_ck0T (Zoom)
5.20 (后天)北京时间13:30-14:30
IO-Talent x ESCAP
分享主题:Fast-tracking the SDGs - Driving Asia-Pacific Transformations
嘉宾介绍:
Ms. Armida Salsiah Alisjahbana, UN Under-Secretary-General and Executive Secretary of ESCAP
Mr. Bambang Susantono, Vice-President for Knowledge Management and Sustainable Development, ADB
Ms. Valerie Cliff, Deputy Assistant Administrator, Deputy Regional Director for Asia & the Pacific and Director of the Bangkok Regional Hub, UNDP
Professor Sohail Inayatullah, Inaugural UNESCO Chair in Futures Studies. Professor, Tamkang University, Associate at Melbourne Business School, University of Melbourne and the Metafutures School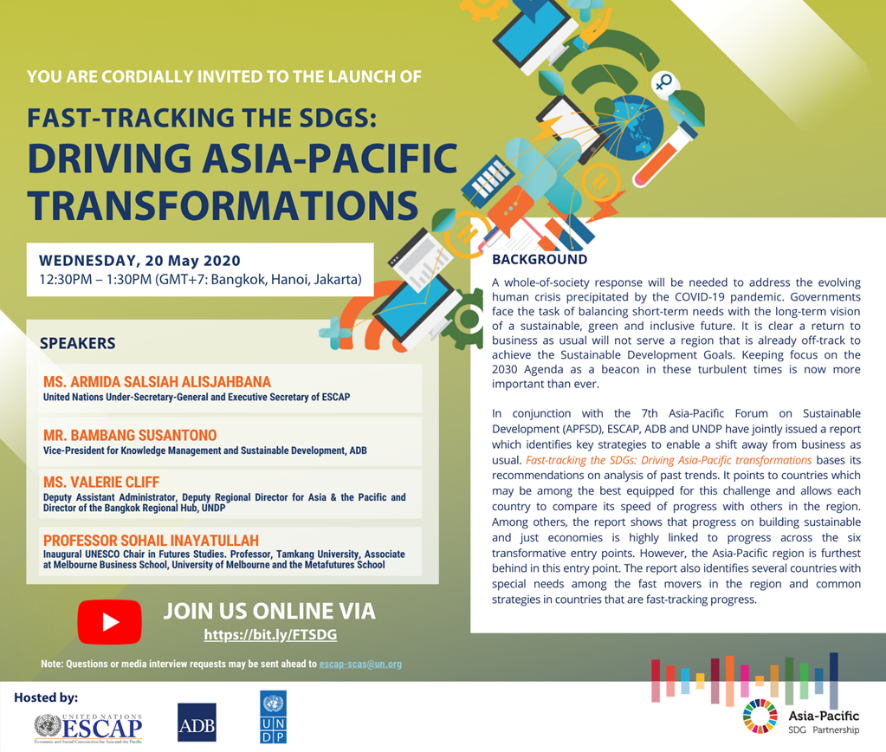 直播链接:http://bit.ly/FTSDG (YouTube)
挑选你感兴趣的话题,准备好小本本,跟小编一起进入直播间吧!